News & Comments
posted Jan.23.17 at 07:00 am

Sorry for the little delay, this week (month?) is going to be me trying to organize my shit what with everything else going on (good things! but even good things need organization).
Anyway, enjoy!!
---
Sep.12.16 at 12:00 pm
*Closed*
Hi everyone! First of all, thanks for any support, likes, reblogs, donations, reads, really just thank you for being you and liking the stuff I do! :)
I'm up for another GGaR original comic strip sale… with better packaging and nicer presentation! They're one of a kind, and you have over 800 comicsto choose from… that MIGHT sound a little bit overwhelming! But with communication on both sides, we'll find the right strip for you ;3
(width 24cm/9.5 inches)
Prices (shipping is on me!):
Fully sketched strips:$60
Early inked strips:$70
If you're interested, send an email at gogetaroomie@gmail.com with the subject "Original Strips". Whether you have a specific comic strip(s) in mind that is fitting for you, or whether we go on the perfect Roomie-strip-for-you search together (what characters you want, from what chapter, ect), I wanna make sure you're satisfied with your purchase!
Also, don't wait too long, I'm getting hungry.
Mar.08.16 at 12:00 am
It's Women's International Day, whooo! Let's celebrate with Women Lady Bits in our porno comic! :D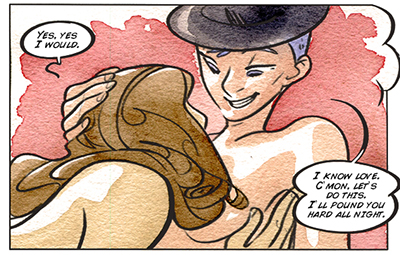 (The twins' older sister Kris, in her younger days with blue hair and an imaginary hat)
Les3 is the sexy story of Kris' love life and how she tries (and fails) to manage it. Her best friend Anael one day comes up with a 'simple' request of satisfying the needs of his new girlfriend. Kris, being the reasonable lesbian that she is, refuses.
Somewhat.
Not really.

The comic has recently updated on Slipshine with the first half of Chapter 4, the other half coming this end of the month! If you feel teased enough with 50+ pages of boobs, pussies and hints at the GGaR verse (with a splash of traditional colors from my companion), do subscribe there's so many other sexy-as-hell comics from other artists as well!!
And there's more to cum! We're working on a brand new one-shot comic for next month as well ;)
See you on the other side,
Chloé C.